Product Description
Chlorine dioxide disinfectant is an internationally recognized high-efficiency disinfectant that kills all microorganisms, including bacterial propagules, bacterial spores, fungi, mycobacteria and viruses, and these bacteria do not develop resistance. Chlorine dioxide has strong adsorption and penetration ability to the microbial cell wall, can effectively oxidize the thiol-containing enzyme in the cell, and can quickly inhibit the synthesis of microbial protein to destroy the microorganism.
Chlorine dioxide is a chemical compound with the formula ClO2.This yellowish-green gas crystallizes as bright orange crystals at −59 °C. As one of several oxides of chlorine,it is a potent and useful oxidizing agent used in water treatment and in bleaching.
Developed especially for safe and hassle-free preparation of chlorine dioxide, our product is activated and stable in liquid state. Also have tablets or powder that are ready for resolve in water in 2 minutes.These offer the versatility to produce variable liquid concentrates – or creating a vapor to "gas-off" enclosed areas – by simply adjusting the amount of water in the recommended formula.Chlorine dioxide is well-known as an effective agent for oxidizing microorganisms and reducing odor,including hydrogen sulfide (H2S).Commonly used as an alternative to chlorine,ClO2 mitigates odors at the source rather than merely masking them.
Application Occasion

Concentration

Method

Processing time

Disinfect tap water, drinking water and production water

0.5-1 mg/L

Downstream injection,Blending

30-60min

Disinfect and sterilize the public space and production place

1000 mg/L

Fumigating

30min

Work clothes, work cap, towel, production equipment supplies disinfection

100 mg/L

Dip in

15min

Operators' hand sterilization

100 mg/L

Dip in

1min

Disinfect machinery, equipment, tools, pipes and packages

150 mg/L

Dip in

10~15min

Spray,Wipe

1min

Showering and cleaning disinfection of fruits, vegetables and meat products

50 mg/L

Dip in or Spray

10~15min

Aquatic products, meat products, canned products, pickles, mushroom etc.

200 mg/L

Dip in or Spray

10~15min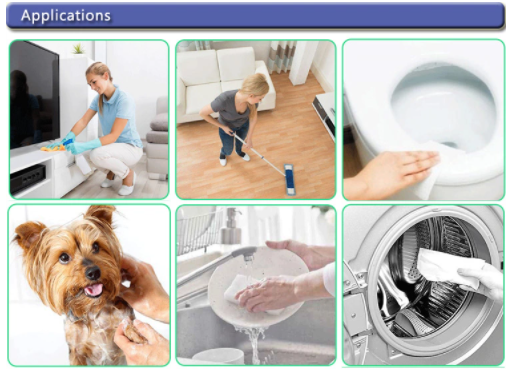 Xingbang High Molecular Materials Co., Ltd.
Founded in 2008 by Williams Wang in Ningbo, China, Xingbang started as a pure trading enterprise. Focus originally was on PVC additives from the overseas to suit the needs of the China domestic PVC finished and semi-finished products.
Since then the company constantly expanded to the today`s Scales. In 2019, Xingbang`s turnover is 20 million US dollars.
Xingbang carries on the original and still core business in PVC field. But today, Xingbang is not only invloved in the traditional Chemical and plastic addtives, but also we are expanding our business to include the most user-friendly, non-hazardous products in the industry and hold ourselves to the highest quality standards, ensuring that our products always provide superior value and performance.
All businesses have gone through continues developement throughout the several years encorporating new fields of operation beyond mere trading. We are trying to make the joint development of the bio-based products with our global partners.
Today, we're bringing bio-based chemical platforms to China market. Our goal is to continue striving for excellence with unique technologies, developing high-quality solutions and creating value for our customers. In the meantime, Xingbang is highly anticipating that more overseas` premium manufacturers who are involved in bio-based plastics and chemcials and other latest technologies which are representative and tendency in current could get connection with us to jointly develop vast China market.
Company Name: Xingbang High Molecular Materials Co., Ltd.
Product/Service: Bio-based plastic additives , Bio-based polymers materials , Bio-based raw materials , Bio-based chemical intermediates , Sales agent
Contact Person: Mr. Williams
Tel: 86-0574-89137630