Product Description
1.Specfication
Specfication

Type




 

dried goji berry(wolfberry)

Size

180/220/280/350/380/500/550pcs per 50g

shape

Whole

Taste

Sweet

Humidity/Moisture (%)

11%-13%

SO2

≤ 30PPM

Sugar

37%-40%

Nutrition Facts









Contain 18 amino acids




Contain 21 trace minerals




Contain more protein than whole wheat




Contain B-complex vitamins




Contain a complete spectrum of antioxidant carotenoids, including beta-carotene and  zeaxanthin. Goji berries are the richest source of carotenoids of all known foods




Contain Vitamin C at higher level than even those found in oranges




Origin

Zhongning City, Ningxia Province
 The nutritional composition in Ningxia 
| | | | |
| --- | --- | --- | --- |
| Comosition | Dried Goji  berry | composition | Dried  Goji  berry |
| Moisture(g) | 12.0 | Ash  content(g) | 3.16 |
| Crude fats(g) | 7.14 | Crude  protein(g) | 12.10 |
| Carbohydrate(g) | 57.82 | Crude  fiber(g) | 7.78 |
| Quantity  of  heat(kcal) | 343.9 | Calcium(mg) | 112.5 |
| Phosphorus(mg) | 203.1 | Iron(mg) | 8.42 |
| Carotene(mg) | 7.38 | I-hydroxide lutein(mg) | 10.05 |
| Thiamine(mg) | 0.153 | Riboflavin(mg) | 1.27 |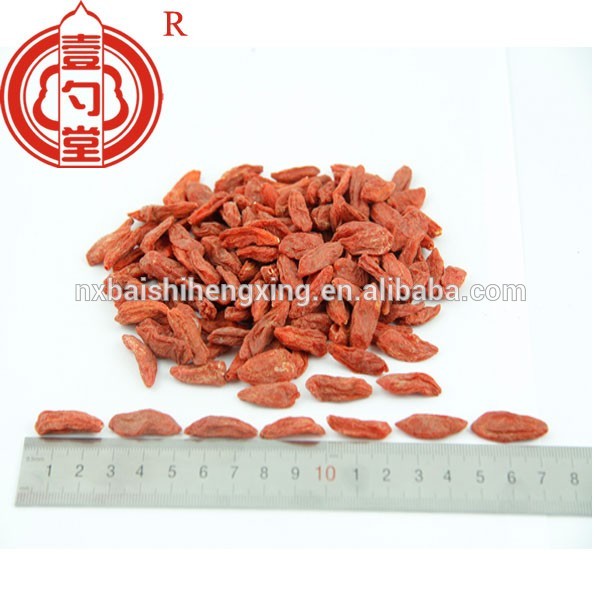 Inner Packing:5kg/bag  Outer Packing:20Kg Carton.
  Unit carton net weight 20kg, unit carton gross weight 21.5kg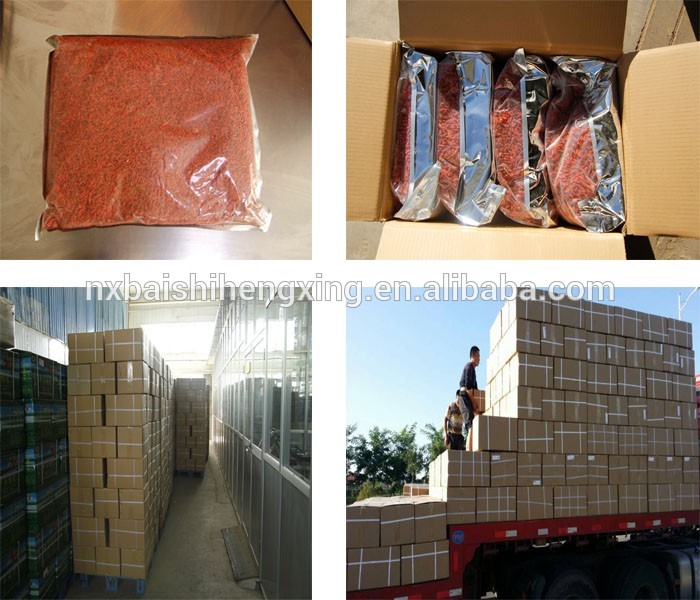 |Dried Goji Berry/organic Goji Berry|, |High Quality Goji Berries|,|Conventional Goji Berry|,|Goji||goji berry in Dried Fruit|

Health Benefits of Goji Berries
1) Anti-Aging Superfood - Goji berries are considered the world's most powerful anti-aging food. They're rated #1 on the ORAC (Oxygen Radical Absorbance Capacity) scale, which measures the antioxidant level of foods. Antioxidants fight free radical damage associated with diseases and premature aging. Dried goji berries contain 3x the antioxidants of pomegranates!
2) Protect Eyesight - Goji berries contain two key nutrients that support vision: lutein and zeaxanthin. Studies show that consuming high amounts of lutein and zeaxanthin lowers the risk for developing age-related macular degeneration, cataracts, and other eye diseases.
3) Promote Skin Health - The vitamins in dried goji berries can give your skin a healthy, youthful glow. The rich content of vitamin A, vitamin C and zinc naturally occurring in goji berries helps to improve skin tone and texture. Research suggests that vitamin C and zinc act as antioxidants to lessen the harmful effects of UV radiation on the skin.
4) Boosts Immune System - Goji berries contain even more vitamin C per ounce than oranges. They are also high in the trace element selenium, which fights bacterial and viral infections. Adding a small handful of dried goji berries to hot teas or soups isn't a bad idea when the cold and flu season hits.
5) Good Source of Amino Acids - Goji berries contain 18 amino acids, including all eight essential amino acids. Our bodies use this combination of amino acids to build the proteins it needs. Since we cannot synthesize essential amino acids from scratch, we must obtain them through our diet.
6) Liver & Kidney Benefits - A compound found in goji berries called betaine, is used by the liver to produce choline. Choline supports the liver and kidneys by helping them expel toxins and waste from the body.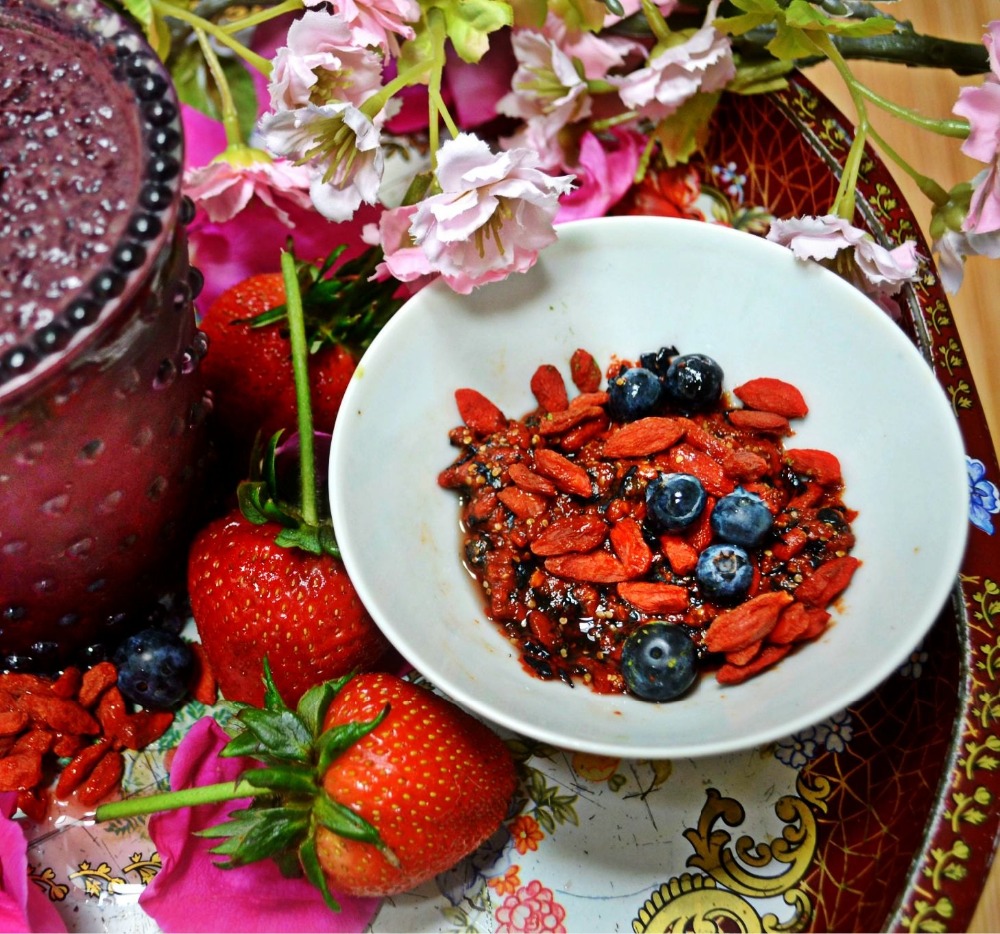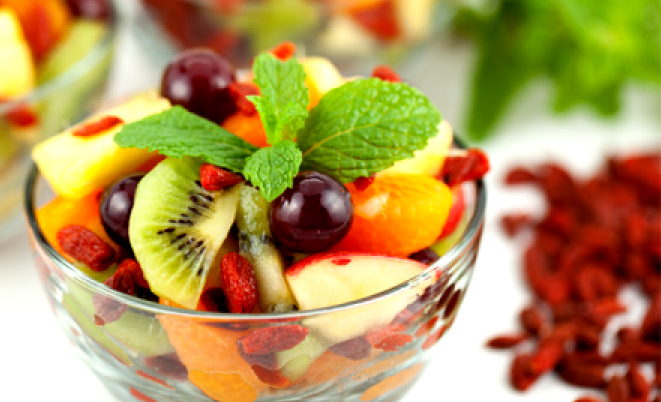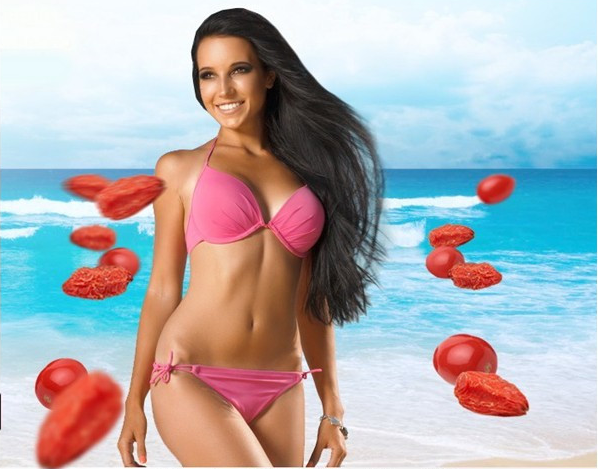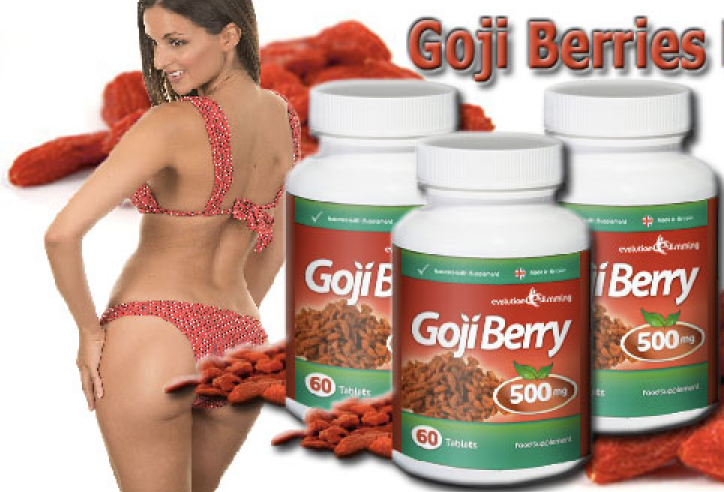 1.We are an professional manufacturer and supplier of vaious fruits series, such as: goji berry, dried           jujube, licorice,wolfberry tea, Black Goji Berry;
2.We have received Eurofins and QS certification;
3.We sold goji berry more than 1000 tons in 2014;
4.We export goji berry to American, United Kingdom, Turkey, Japan, Germany, and other country;
5.Our adress: Factory: Meldar City,North Road,ZhongningCounty,Ningxia China
                       Office: Room 2307.4#Building.Yuehai City.Kangping Road.Yinchuan Ningxia China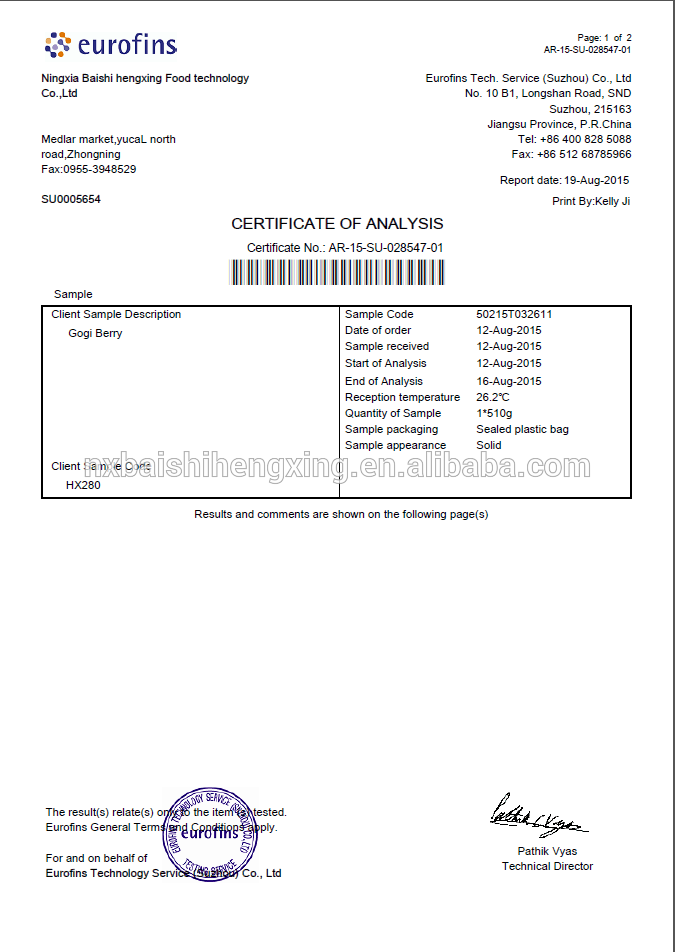 History of the Goji Berry:

Nearly 2000 years before there is a belief that Wolfberry and Goji berry is enormously provide the benefits for the health to those who formulates Goji berries are the part of diet. Actually these Goji berry cultivations were begun earlier in China region, where many people got benefited in their health from the last three thousand years. 



These berries are themselves grown from a perpetual deciduous place in the ground that can possess a lavender blossom. They are not only beautiful but also more enjoyable while eating. At a glance these berries are usually look like grapes, tomatoes or chilies. From the internal these berries contains the seeds which are alike to the tomatoes. In China the usual seasons when these goji berries cultivate are from middle-late summer. Maximum of northern hemispheres fallow this only. 


The Hometown of the Goji Berry

The highest quality (specially with respect to their herb-medicinal functions) Goji Berries grow in Zhongning County of the Ningxia province of China due to the soil, climate and other growing conditions. Zhongning County is usually called the home of Goji berries in China. Chinese government has established Zhongning as one of its foremost TCM herb farming and production bases, and Zhongning Goji Berry fruit farming and processing has become strictly controlled in accord with the national Green Food Standard and Good Agricultural Practices (GAP).

The Xinhau News Agency, reported that the Ningxia variety of Lycium barbarum "is far superior to ordinary Chinese wolfberry in both tonic effects and economic results." Due to their superior quality, some of the medical studies done on the Goji Berry have specified the use of the Ningxia Goji Berries. As with other plants, the Chinese wolfberry has a number of species or varieties. Of the eighty different species of wolfberries worldwide, the Lycium barbarum from Ningxia has by far the highest levels of immunestimulating polysaccharides.

 Ningxia's Perfect Geography for Goji

The Huang He (Yellow) River originates in the Yekuzonglie Basin located on the northern slope of the Bayankera Mountains in the Qingzang Plateau and flows through the Ningxia Province. This river creates a unique, mineral-rich, super fertile silt-water flood plain found nowhere else on earth, producing incomparable wolfberries.

The beautiful Ningxia region is called "China's herbal medicine valley" and is renowned for meeting all of the stringent rules to be awarded the prestigious "Green Certificate," the equivalent of the USDA's Organic Certification.

Ningxia, China is legendary for amazingly healthy people. The Chinese national census recently reported that the number of Ningxia residents living more than 100 years exceeds the national average by an amazing 400%. Ningxia locals now admit their health secret lies in the locally grown Goji Berries.

The people of the Ningxia Province in China have known for thousands of years of the amazing secret of the Ningxia Goji Berry. For centuries this ancient culture has used wolfberries to replenish the body's "vital essence." This special berry is honored by the local farmers with a gala two-week festival. There is even a statue honoring the young women who harvest wolfberries.

In ancient times, the Chinese people were said to have three cherished tonics for health. They were ginseng, ling tzi, and Goji Berries. The Goji berry legends found in ancient Chinese medicine reach back over 5,000 years through the mists of time. Called "GOJI" by native Chinese, wolfberries have a long tradition in folk medicine. Ancient Chinese medical texts extolled Goji berries for strengthening the eyes, liver, and kidneys as well as fortifying the "qi" (chi) or life force. An early medical work, Shen Nung Ben Tsao (475-221 B.C.), noted Goji berry benefits ranging from replenishing vital essences to strengthening and restoring major organs.

The physician's handbook, Ben Cao Gang Mu, written during the Ming Dynasty (1368-1644 A.D.) reported, "taking in Goji berry regularly may regulate the flow of vital energy and strengthen the physique, which can lead to longevity."

 Goji berries are a Chinese National Treasure

The good health and vitality of the Ningxia elderly has long been attributed to Goji berries. To the people of the province, a bowl of fresh wolfberries a day is part of life. Its health benefits have been extolled for generations. In fact even today, the Ningxia Goji berry is considered a national treasure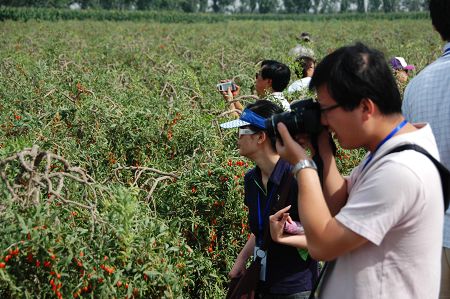 Contact us if you need more details on Goji Berry. We are ready to answer your questions on packaging, logistics, certification or any other aspects about Goji Berry Krem、Bulk Goji Berries. If these products fail to match your need, please contact us and we would like to provide relevant information.
Product Categories : Goji Berry > Red Goji Berry